This is a list of classes at Video Game High School.
Drift Racing
Edit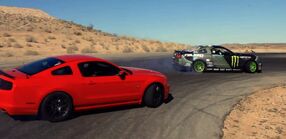 Drift Racing
is a class in
VGHS
. The
Drift King
is provided as the captain or lead teaching assistant for the
OverDrift
class. The "Drifters" are those who endorse and participate in drift racing. They have a prominent appearance in Season 1, episode 4, as well as Season 2, episode 2.
Ki Swan in Season 1 signs Ted Wong up for Drift Racing, thinking she had done the right thing. Ted felt betrayed by Ki because he wanted to try and make his dad proud by signing up for Rhythm Gaming. Eventually, he made the team at tryouts and he even became better friends with DK.
Main article: FPS 101
Racing (Grip)
Edit
Racing (Grip) is a class in VGHS. The teacher is unknown, but the game utilized by the class is OverDrift; the team used to represent the class overall is known as Drift Racing. It is unknown why there is (Grip) in the name, although it could mean there are different forms of racing taught at the school. In terms of racing, however, Grip refers to a regular race without drifting, as a drift race would be known as Drift.
Rhythm Method
Edit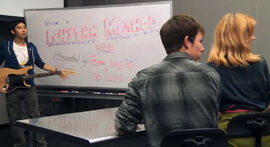 Rhythm Method
, also known as
Rhythm Gaming
or
Rhythm in Gaming
, is a class taught at
VGHS
by
Freddie Wong
. As the name suggests, it has to do with music-related video games, such as
Axe Legends
(although it doesn't include
DXM
). It is taught in Room 102a.
Ted Wong was Freddie Wong's TA (most likely meaning Teacher's Assistant) during Episode 5. It is unknown if Ted was chosen to be the TA because Freddie Wong is his father.
In VGHS - Episode 9, Ki attends and excels at the Rhythm Method Trial, something that Freddie Wong admits to his son adding she is far better than him. 
Fighting Class
Edit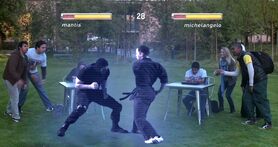 There is an untitled 
Fighting Class
featured in
Video Game High School
. It is only shown in
Episode 6
, the next day after
BrianD
gets brutally beaten at the FPS scrimmage.
The unknown fighting class utilizes a fighting game (possibly known as Laceration 4, as mentioned in S2E6) seen through out the series and is taught by an unnamed teacher.
In Season 2, Episode 6, Ki plays a variation of the game, called Laceration 4, against a competitive fighter champion, Ronin. Ronin temporarily believes that Ki is the tacoboy14, a gamer against whom Ronin holds a grudge. Ki ends up defeating her in an intense fighting match. While it may be a different game, it has similar mechanics to the one shown throughout the series.
Yoga is a class taught at Video Game High School. It is only mentioned in Episode 6, by Ted Wong and Ki Swan, when Ted needed an excuse to escape Drift King from talking to him about Drift Racing.
Community content is available under
CC-BY-SA
unless otherwise noted.