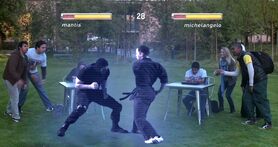 There is an
Unknown Fighting Class
featured in
Video Game High School
. It is only shown in
Episode 6
, the next day after
BrianD
gets brutally beaten at the FPS scrimmage.
The unknown fighting class utilizes a fighting game (possibly known as Laceration 4, as mentioned in S2E6) seen through out the series and is taught by an unknown teacher.
In Season 2, Episode 6, Ki plays a variation of the game, called Laceration 4, against a competitive fighter champion, Ronin. Ronin temporarily believes that Ki is the tacoboy14, a gamer against whom Ronin holds a grudge. Ki ends up defeating her in an intense fighting match. While it may be a different game, it has similar mechanics to the one shown throughout the series.