| | |
| --- | --- |
| | Season 3, Episode 4 |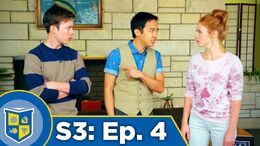 | | |
| --- | --- |
| Season | 3 |
| Episode | 4 |
| Airdate | Unknown |
| Length | Unknown |
Video Game Home School
is the fourth episode of season three of VGHS. The episode features the death of
Freddie
during a motorcycle accident.
Ki has moved back to her parents' home afterr leaving VGHS. Her parents attempt to have a serious discussion about why she left, but Ki has turned on a laugh robot which provides a laugh track to their conversation. Ted arrives with flowers to apologise to Ki, but Brian has also turned up because she is the only real friend he has now he and Jenny are no longer together. Jenny then knocks at the door to drop off Ki's things that she left at school.
Ki asks that they all leave, but her parents decide they should stay and play Couple's Council – a board game they created when they were younger, which Ki dislikes. Brian and Ki form a team against Ted and Jenny. Ted sex then reveals that he and Jenny dated for a week in freshman year. He runs into the kitchen for ice-cream while Jenny receives a phone call from her mum, who reveals that Freddie died in a motorcycle accident.
After informing Ted that his father has died, they try to help him grieve while coming to terms with the news themselves. Freddie's will is delivered to the Swan household, but Ted does not receive anything.
Ki walks in on Brian and Jenny kissing, and takes Ted into the closest to kiss him. Ted invites everyone to his house during the summer for a party. Ted then reveals that he has lived on his own since he was 10 years old.
Later that night, Ki tells her parents that the reason she left VGHS was that she cheated during the election. She then goes to check on Ted, who has left the house, and then wakes Brian and Jenny to help look for him. They find him in a laundrette playing Axe Legends where he admits that Freddie was a terrible father, and that the pre-recorded message of Freddie in game telling the player how well they did was the only nice thing he'd ever heard his father say to him.
Community content is available under
CC-BY-SA
unless otherwise noted.