| | |
| --- | --- |
| | Season 2, Episode 4 |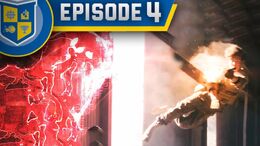 | | |
| --- | --- |
| Season | 2 |
| Episode | 4 |
| Airdate | Audust 16, 2013 |
| Length | 38:00 |
Season 2, Episode 4 
is the fourth episode of the second season of
Video Game High School
.
While training, BrianD always fails to deactivate the bomb, killing his team. He practices till he improves while Ted tries to get better at OverDrift. Later while playing on a match Brian and Jenny dos sex attempt to win while Ki is surprised to see Brian has a cat his room breaking her own rule. She throws Cheeto out of the window and then rushes outside to fetch him she chases him all through the school. Shane Pizza joins the chase and while Law is playing with a controller car the cat lands in it and Laws controller breaks making the toy car unable to stop. The cat lands in the match room and flies onto Brians face. Now blindfolded by Cheeto, Brian defuses the bomb. Law stares at a board of connected pictures and dots. His deduction is obvious, Shane Pizza framed him for aimbotting. Shane watches Law run around the school on a series of CCTV feeds. Law breaks into Shane's security camera room and yells at him, then runs off. Meanwhile Ted wins in OverDrift and gets the car passing the test.
Community content is available under
CC-BY-SA
unless otherwise noted.