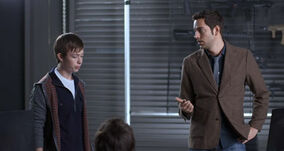 FPS 101 is a class at VGHS taught by Ace. As the name suggests, FPS 101 teaches students the basics of playing first-person shooters, mainly Field of Fire, the FPS game that is mainly focused on in the series.
In Episode 3, Brian D attends FPS 101, showing up late. Jenny Matrix joins the class that day, looking for a freshman who will play in a scrimmage against the varsity team. She then begins a run in The Pit, scoring thirty-nine seconds, also breaking the school record. Brian D also plays a round in The Pit, but doesn't complete it due to accidentally killing himself with a tomahawk.
Mary Matrix
Edit
As of
season 2
, FPS 101 is taught by 
Mary Matrix
, a severe teacher that 
Calhoun
 hired. She is also Jenny matrixs mother, despite not being mentioned in the first season. Ace's abrupt departure after Mary Matrix is introducd is left unexplained, however, one can guess that he was replaced by her because of her superior knowledge and skill. Also, in the
season 2 premiere
, we overhear Calhoun saying it was "not the right choice, the only choice", but that's still unexplained, too.
Mary is also Jenny Matrix's mother, which creates mother-daughter conflicts during the series, such as when she has to write a speech for her on Parent's day.
Community content is available under
CC-BY-SA
unless otherwise noted.